DESCRIPTION K-SERIES VIBRATORS
FINDEVA


Manufactured from corrosion-resistant, extruded aluminium with a hardened steel raceway, over which the ball runs.
Nylon end plates seal the steel ball and also seal the vibrator against penetrating moisture and dirt, allowing these vibrators to be used in dusty or humid environments. The inlet and outlet ports have threads for standard pipe nipples so that the outgoing air can also be discharged through a pipe and thus no restrictions occur, caused by the outgoing air flow. There are 2 horizontal and 2 vertical holes for mounting.
To obtain the best result, it is recommended to use a silencer.
In the air supply pipe, a filter and an oil nebuliser should be mounted, to guarantee a long life of the vibrators. It is recommended to use hydraulic oil which complies with ISO VG5 = 5cSt/40°C e.g. Shell oil Tellus R5.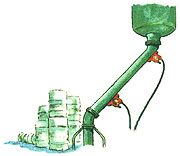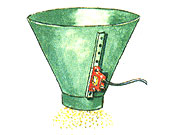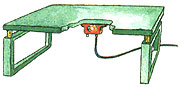 DESIGN:
The K series has small dimensions and the frequency of this pneumatic ball vibrator can easily be controlled by varying the inlet air pressure, making it applicable for example:
Supporting material flow in hoppers and bunkers
Preventing blockage during transport of bottles or similar
Compaction of material in containers and moulds
Separation of materials of different sizes
Ambient temperature 40 tot 100°C
Special HT version: 0 tot 150°C
Sound level 75 tot 85 dBA